Faithful Member of Mt. Zion, Poplar Blu? Called Home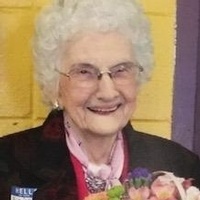 Dorothy Nell Goldschmidt, age 94, of Fisk, MO, died Saturday, June 16, 2018 at Swift Creek Residential Facility, in Poplar Blu?, MO. She was born October 13, 1923 at Coon Island, MO, daughter of the late George and Lillian (Scoggins) McBroom.
She taught at several area schools during the 1940's and enjoyed raising her children on the farm and being active in school functions. She was a member of Mt. Zion Missionary Baptist Church in Poplar Blu? since the 1940's. Dorothy also enjoyed writing autobiographical poetry to commemorate people's lives. July 11, 1942 she married Arthur L. Goldschmidt. He preceded her in death May 23, 2005. She is survived by one daughter: Jolene Kingery and husband Gayle of Poplar Blu?; one son: Larry Goldschmidt and wife Linda of Fisk; nine Grandchildren: Doug Goldschmidt, Nathan (Bree) Goldschmidt, Logan (Alisha) Goldschmidt, Pamela (Matthew) Hudson, Nancy (Brian) Markus, HaSue (Je?) Fryer, David (Amy) Kingery, Travis Kingery, and Jonathan Kingery; 11 great grandchildren: Nicole Fryer, Jesse Lamb, Earl Arthur Lamb, Lucas Kingery, Emma Kingery, Lane Kingery, Elliott Goldschmidt, Lela Claire Goldschmidt, Reese Hudson, Quinn Hudson, and Oliver Henry Goldschmidt.
She was preceded in death by one son: Jackie Goldschmidt; two grandchildren: Holly Michelle Goldschmidt and Michael Earl Kingery; two sisters: Evelyn Fickert and Louise Vines; and two brothers: Lex and Max McBroom. Visitation was at 10:00 a.m.
June 23, 2018 at Mt. Zion Missionary Baptist Church. Funeral services followed at 11:00 a.m. at the church with Pastor Matthew Johnson offciating. Burial was in Shain Memorial Cemetery at Fisk. Memorials may be made to Fisk Library, c/o Susan Williams, 919 County Road 579 Fisk, MO 63940, or a Charity of your choice.