The Master Builder's Retreat 2019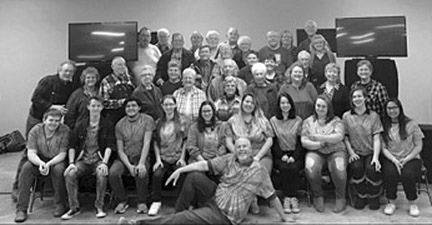 The annual retreat for the Master's Builders, was held on January 22nd -25th. For the first time, the Builders gathered at Daniel Dorm at Daniel Springs Encampment, in Gary, Texas. In April of last year, our men did some remodeling of the dorm and Daniel Springs can now offer a very nice facility for group gatherings. Bro. Jason Prewitt says the camp is "wide open" for large groups to enjoy. Daniel Dorm and Retreat Center offers sleeping quarters, a full kitchen, and a large multi-use room. The Master's Builders will tell you that the facility is great for church groups, reunion, and retreats. You can contact Jason at 903-685-2433 or e-mail him at: jason@danielspringscamp.com. Several of our Builders remarked that this was the Best Retreat yet! We had 30 Builders who attended the retreat and stayed on the grounds and 1 couple from Lufkin, TX, who came to visit. We always enjoy our time together. We do a lot of eating, snacking, grazing, and game playing. We are happy to welcome a new couple into our group. Don and Pam Windam, of Fairfeld, TX, certainly ft right in to our fun group.
On Wednesday night, we had a special treat, as the Jacksonville College Choir, under the leadership of Bro. Randy Decker, came and fellowship with us and put on a great concert! Bro. Randy has asked each one of the students to greet new people and ask, "What's your story?" And then to sit and listen and then share their story with them. What a GREAT dea!! This would be good for us all to do!! Step out of our comfort zone and make new friends! Bro. Randy, thank you for being a great music
leader and life leader WITH these students. He shared this thought with all of us, "We are not to be an in?uence by forcing someone to do something, or by doing something for them, but by doing something WITH them. While we were at Retreat, we learned of the death of our eldest Master's Builder, Max Adams. He would have been 92 in a couple of months. Max lost his beloved wife, Wilma, last July and was certainly ready to be "home" with her and his Lord and Savior, Jesus Christ. Please pray for his family, his church family at Wyatt Baptist, El Dorado, Arkansas, and his Master's Builders family. We will all miss him and his whistling!
The Master's Builders have a busy spring coming up. Plans are to be back at Daniel Springs in March, Kenwood Baptist, Siloam springs, Arkansas, in April, New Liberty, Emmet, Arkansas, in May, and Riverview Baptist, Fulton, Arkansas, in June. If you are near one of these jobs, come see us, we would love to meet you! If you have questions about the Master's Builders ministry, or if your church has any building needs, please contact our Office Coordinator, Bro. John Mangum, at 318-202-5155 or (cell) 318-607-4100 or our Field Coordinator, Eddie Sikes, at 903-725-6549 or (cell) 479-462-1675. Keep up with us on Facebook. Rose Bittner does a fantastic job keeping everyone informed of all our goings on! Like us at " The Master's Builders" w/ (arbor logo).
Nelda Malone – Reporter